White Sidewalls with cathedral window (per foot)(20',30' or 40')
Product Images: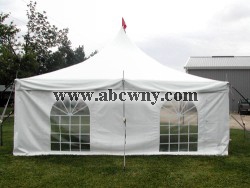 ITEM DETAILS
Don't let the weather elements ruin the event that you worked so hard to prepare. Sidewalls are user friendly, install in minutes, and provide protection from wind, rain, and other weather elements so you can continue to enjoy your event.
Sidewall come in 20, 30 & 40 Foot Lengths
You can now book and pay for this item online. Please visit our new site by clicking on the image below.